Developed by VOST Portugal CONFIRM (CrOwd Management Platform fOr diSaster rIsk maNaGement) is a open source tool that can adapt to any situation. 
The concept for CONFIRM was born in 2021 from a challenge launched by ACP Motorsport for the "Rally de Portugal 2021" due to COVID-19 restrictions.
Based on the guidelines set up by the Portuguese Health Directorate (Direcção Geral de Saúde) the number of spectators had to be controlled and, in cooperation with the organizers and Guarda Nacional Republicana, the platform receives information from operatives on the ground (via radio or instant messaging) and updates a dynamic dashboard that helps in the decision making of crowd management.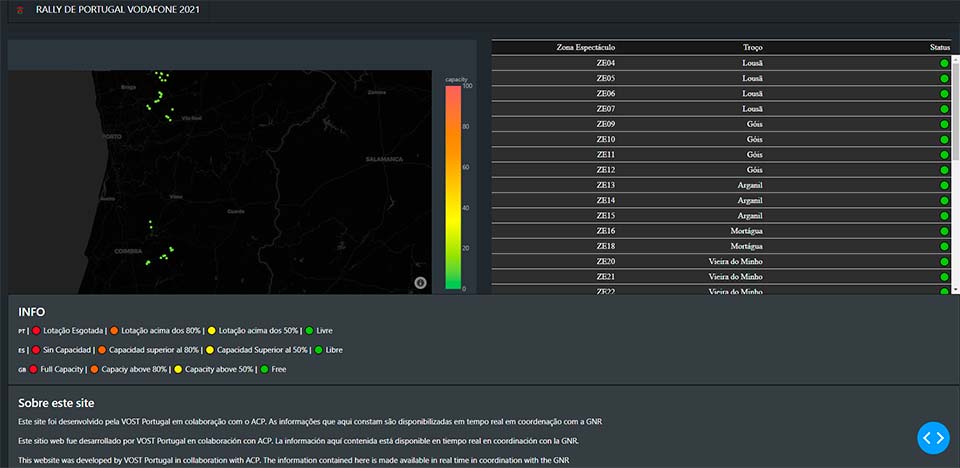 The platform also allows for automatic and personalized dissemination of alerts via social media channels, and dedicated instant messaging channels, as well as dissemination of relevant and critical information to the public via dedicated API. An example of this integration is with the application Waze that can direct its users to alternative routes and zones. 
SET UP
All you need to set up CONFIRM are the evacuation points (lat,long) and the maximum capacity. From that moment on you can start receiving information from operatives on the ground and inserting the values of occupancy.
When the certain thresholds are met that information is automatically deployed to the pre-established channels.
APPLICATIONS 
Apart from the aforementioned activation during the "Rally de Portugal 2021", CONFIRM is being deployed in Slovakia – as a decision making support tool to the refugee crisis resulting from the Russian invasion of Ukraine – and will be deployed during this year's Fátima Pilgrimage event in Portugal, in cooperation with the National Civil Protection Authority (ANEPC) and GNR.
RESULTS 
In its first deployment, in 2021, CONFIRM served 311600 unique users that made more than 9M requests to the server. The information on social media channels, and instant messaging channels, was disseminated in 3 different languages and had a reach of more than 900K impressions. 
CONCLUSIONS
CONFIRM is a versatile open source platform, at no cost, developed by the VOST Portugal team. It's flexibility can be applied to several scenarios where data is fundamental for decision making and for an integrated dissemination to the public various multiple channels.
If you want to know more please contact VOST Portugal